Vegas WCAF 2015 Highlights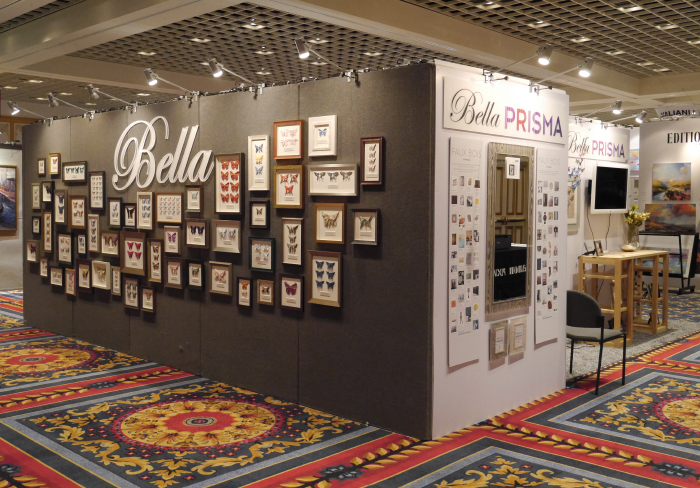 To those of you who were able to attend the show, thanks for stopping by! It was absolutely a pleasure to see you again or meet you for the first time and to speak with you. If you were not at the show, you missed a great one. Here are some of the highlights from our view in Booth 305!
We proudly revealed a total of 67 hot new Bella wood mouldings at the show. These are the fruits of our spring designing adventures in Italy and Spain. The items range from modern profiles in classic silver and gold leaf, to trendy textural stained veneers to hand-finished patinas in a range of gorgeous colors. We added five colors to the already popular Shimmy collection and a smaller more useable profile to the Century line. Sales reps will be knocking on your door very soon with heavy sample cases in hand!
The Prisma Visualizer computer program was shown and discussed extensively throughout the show. The Visualizer is an amazingly valuable sales tool to help your customer understand the magic of Prisma and to "visualize" what the end design result will be for their piece. If you are not familiar, you can find the program on our website here.
The Prisma Faux Bois pattern was shown with a slew of examples of this decorative trend as seen in home decorating and fashion design.

You can see images of our unique Faux Bois products available for order as mirrors and photo frames and view the selection of examples on our Faux Bois Pinterest Page.
Marsala is the Pantone Color of the Year for 2015. For a limited time, Marsala will be offered as an additional color for all Prisma custom frames. Here's how it looks by itself and as an accent color with the existing Prisma Pink. What's not to love?
New for 2015 Photo Frames also debuted in the booth. Bella is now offering photo frames in select finishes from our Tappo and Oaxaca collections. Prisma has added the new "Prestige" collection of frames in select colors. The Prestige line is crafted from our 1" acrylic, comes standard with an 8ply mat and is perfect for treasured family photographs. Frames will be available in stock in March.
Customers visiting the booth got a sneak peak at a new marketing support program that will be rolling out in 2015. Our graphic design department is busy designing a series of ad templates that will be available for Bella/Prisma dealers to download and use to showcase their selection and service primarily on the web, although ads can be reformatted for print as well.
Congratulations to Cathy Coggins of Needlecraft World in Kissimmee, FL as the grand prize winner of our Bella Creations Design Contest. We were honored to have Cathy as our guest at the Paris Hotel in Las Vegas. Cathy is proud of her design and her ability to create a robust niche market for Prisma frames among needlecraft groups in her area. Everybody wants one!
A big congrats also to Donna Erwin of Columbia River Gallery in Troutdale, Oregon, winner of the 3rd Annual Tru Vue Framing Competition. Her entry titled "Do That Voodoo That You Do" took first prize for stunning use of Museum Glass and the wonderful frame design of LED lights sandwiched between two spunky patterned Prisma frames. Wonderfully creative and inventive!
Mark and Nellie received great reviews on their seminar "Profiting from Prisma: A Guide to Seamless Sales". This is the third year for the class which was well attended. We reviewed the Prisma product line, its' place in the industry and importance as a revenue generator in the best frame shops. The class included a lot of visual examples of how to use the line and great tips for how to make and close the sale. If you missed it and would like to be selling more Prisma, maybe we'll see you next year!
2015 started out on a great note. We've got lots of new toys to play with and to help you grow your business! Please join us in making this a wonderful and prosperous year!