New Bella Winter 2019 - Part 1
Welcome to the exciting Winter 2019 new collections launch! We debuted 8 completely new lines plus an expansion to the existing Aida collection at the WCAF in January. With basic golds and silvers, refined barn woods and extreme gilded ornate, there's something for everyone in the launch. In the coming weeks we'll show you all the new options you can have on hand to thrill your customers.
The first two collections are very different but both uniquely refined and they play well together. Introducing Bijou and Harbour .
BIJOU
"You got to have the bling." - Serena Williams
The Bijou collection is a sweet and petite line of beaded frames. "Bijou" translates internationally as jewelry - or if you're traveling with your mother it means "Hold on a minute, let's look in this store!". Beads - made of crystal, glass, or ceramic - bring texture and brilliance to textiles, wall coverings and all manner of classic decorative accents.
Our Bijou tiny modern scoop with beaded composition in a sophisticated color palette of nine colors is machine-made in Italy. It gives an Art Deco impression but is also timeless. Use Bijou on its own to add a small touch of bling or stack it inside to add texture, interest and a touch of metallic shine to your design.
We think Bijou is perfect for family photographs, vintage paper ephemera, wedding photos or invites and anything that warrants a sweet small metallic detail.
HARBOUR
"Every painting is a voyage into a sacred harbour." - Giotto di Bondone
The Harbour collection is a refined refresh of rustic wood- more like barn wood if it was reclaimed from Madison Avenue than a farm. (You can tell it's fancy because of the extra "u" in the spelling.) It has a relaxed, easy vibe and the soft color range is perfectly suited to breezy coastal interiors - east or west coast. Use it when you need a natural tactile element with texture and grain but with a touch more polish and sophistication.
At first glance, Harbour may seem like nothing new in the frame world, but look again and more importantly, give it a feel. Our Harbour frames are milled from solid European fir and completely hand-finished. This means there are no finger joins and we've left the knotty character of the natural wood grain.
That wood grain is deepened and enhanced with several passes by wire brush. The stained wood then gets a hand wash with natural clays to give depth and color and a final wax finish seals everything for a richer feel.
The four colors of Harbour are available in three profiles. Be sure to take note of the nice 3" tall cap shadowbox profile. The black and white finishes come in a 3" wide - perfect for mirrors and larger pieces. You can see in the gallery below some of the characteristic knots and cracks inherent in the wood grain.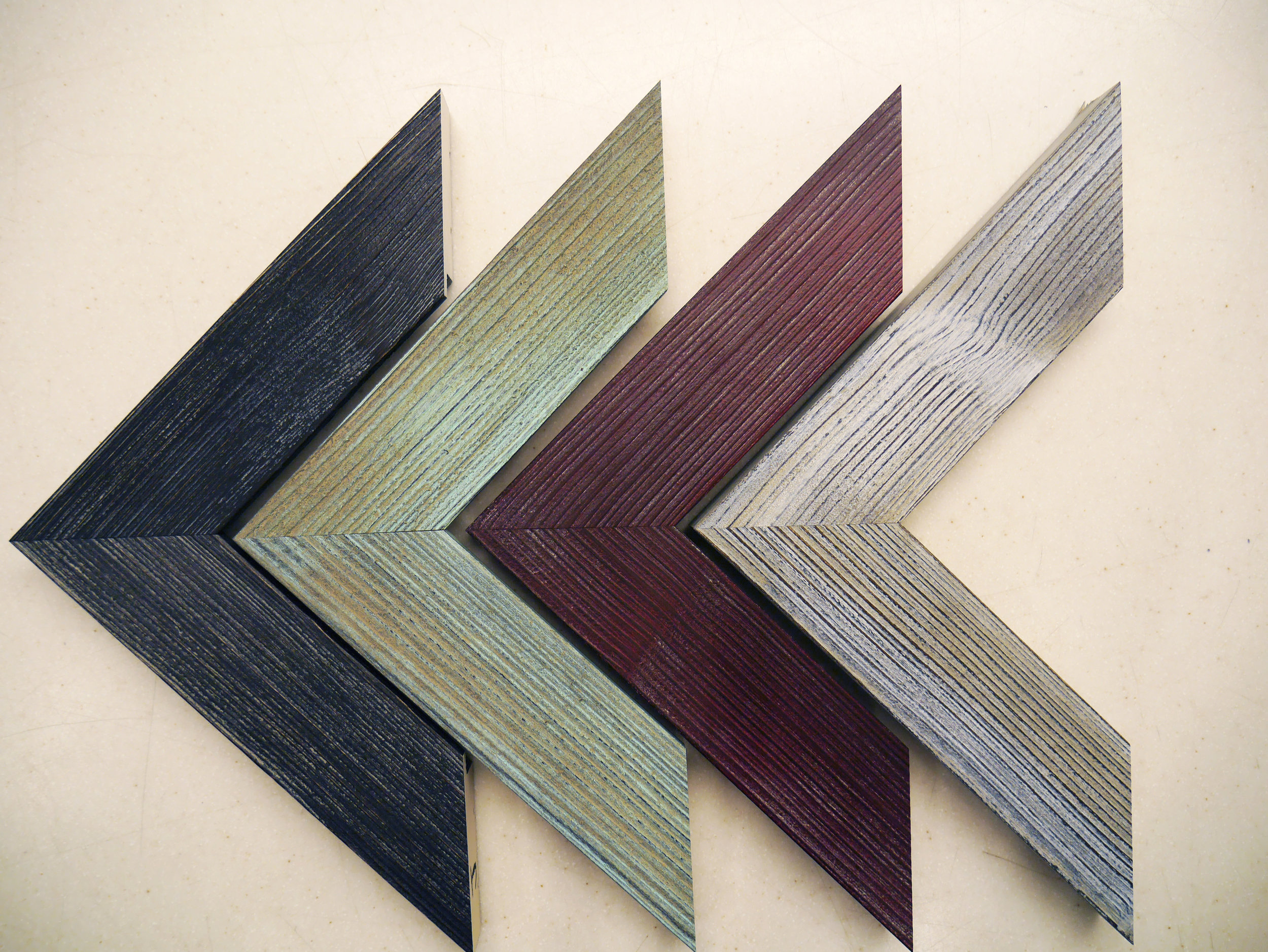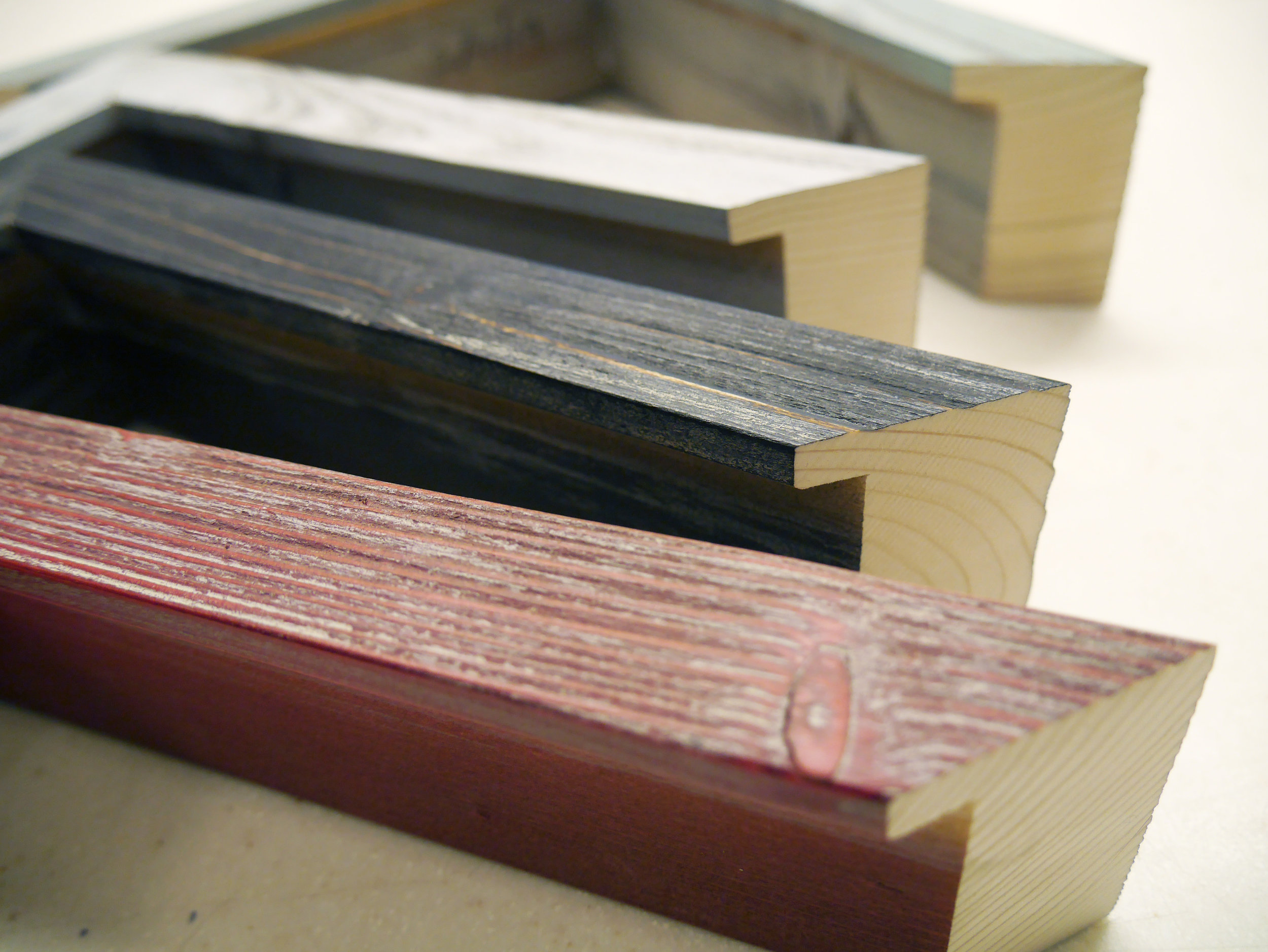 Show Harbour when you need a natural tactile element with texture and grain but with a touch more polish and sophistication. We like how it pairs with informal portraits and nature photography, vintage kitsch for the modern kitchen and botanicals. Harbour also likes to be dressed up with tiny pops of metallic in a stack, like with the Bijou, as shown below.